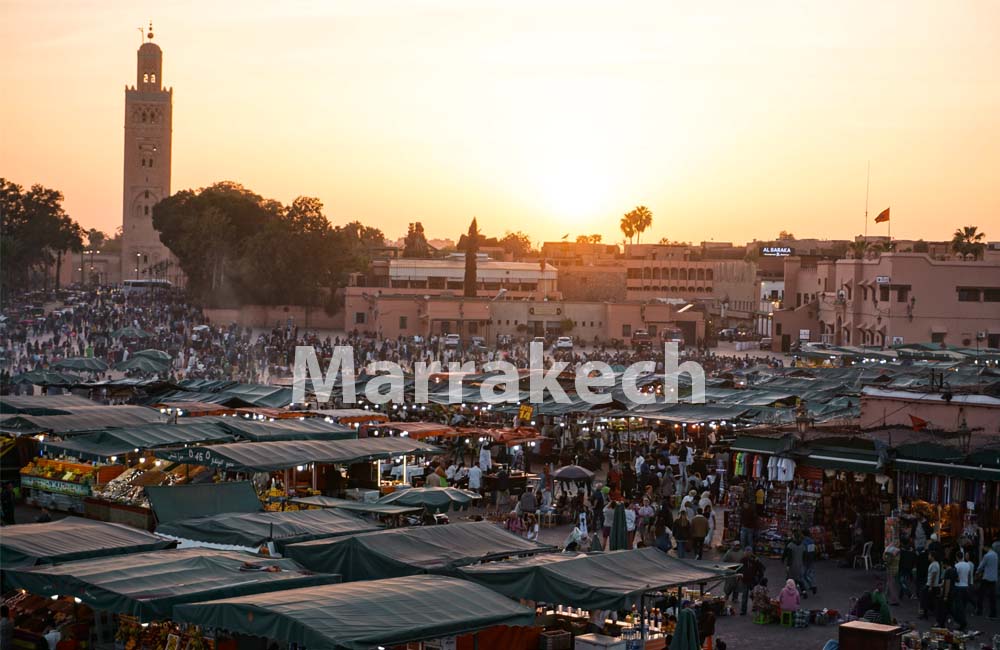 The Best Places to Visit in Marrakech : Places List
Marrakech, A Heaven of Peace, Relaxation and Pure Delight!
As known, Marrakech city has always been considered as the pearl of the south.
The capital city of tourism that attracted millions all over the world. Its calmness, serenity, and beauty were quite enough to get it ranked as one of the major touristic cities in Africa.
Marrakech is actually two cities standing together as one. The old town within its historic walls of adobe and the new town with its districts of Guéliz and L'Hivernage.
Marrakech is perfectly ideal for discovering on foot, via bicycle or simply by a barouche. Both the old town and the new one hold a huge number of gardens and green spaces.
Those gardens include the Majorelle Garden, Arsat Moulay Abdessalam Park, Bahia Palace Gardens and the orchards of Menara and Agdal.
This article shows you what to see and explore when visiting to Marrakech.
1- Medina, The Old Town (Marrakech):
For the vast majority of tourists and city visitors, Medina is certainly their first and most attractive site in Marrakech. Situated exactly at the center of the city, known for its narrow alleyways where rug shops are all around.
Besides, Medina's souks, traditional markets, are obviously what makes it distinctive and more attracting.
The souks represent the real richness and the outstanding Marrakchi craftsmanship and famous for their diversity and lively atmosphere.
Some of those wonderful souks include the Babouche Souk, Chouari Souk, El Attarine Souk, and Cherratine Souk. Each one of them with its own charm and uniqueness.
2- Jemaa El Fna, The Living Heart of Marrakech
Located at the entry to Medina, Jemaa El Fna is a very large square renowned for its bustle of activity. Its unparalleled atmosphere gathers people form everywhere and it is open only to pedestrians.
Surrounded by coffee shops and restaurant stalls that offer different kinds of food and drink. At the evening, it becomes a lively hub for locals and visitors.
That is to say, there are storytellers to listen to, snake charmers, acrobats, and most importantly musicians and Gnaoua dancers.
3- The Koutoubia Mosque, The Spiritual Lighthouse of Marrakech
The Koutoubia Mosque is a major landmark in Marrakech and one of the city's most unmissable sights.
The mosque that was built in 1150 by the Almohads as it took about 40 years to be completed.
Renowned for Its charming design and highly sophisticated decoration. It is ranked among the most beautiful monuments of the Maghreb.
It is to be found within the old town walls. Its very tall Menara can be seen from more than 20 kilometers away. When lit up in the evenings, it becomes the city's spiritual lighthouse.
4- Ben Youssef Mdersa, The Koranic University
It was built by the Saadians in 1564. Ben Youssef Mdersa is thought to be the jewel of Moroccan architecture and a great pathological university.
The large koranic school that attracted a big number of students from throughout the Muslim world.
With its charming Islamic architecture style, it contains warrens of rooms that used to hold hundreds of pupils.
Ben Youssef Mdersa is finely decorated with marble, mosaics, stuccowork, and carved cedar wood.
It is really a place worth discovering when traveling to Marrakech.
5- The Majorelle Garden
The Majorelle Garden, a symphony of light and colour. A lush tropical garden full of cacti, palms, and ferns, and are the work of painter Jacques Majorelle.
Jacques came from the town of Nancy in France to Marrakesh specifically for health reasons. He became well known for his paintings of local Moroccan life. His most famous work, though, was this garden and the vibrant painter's own studio he lived in on the grounds.
The artist painted the walls of his Art-Deco villa and garden. But the property now belongs to the Pierre Bergé-Yves Saint-Laurent Foundation and houses a museum dedicated to Berber artistry.
6- Menara Gardens
Menara is simply an artificial lake surrounded by a huge and an immense garden planted with olive trees.
The Menara, which is situated at the heart of the city, is a very popular spot for locals. A favorite place to a lot of people due to its tranquility, peace and quiet meditation.
But for visitors the first attraction would be the large pool and a graceful summer pavilion that was built by Almohads.
Menara is actually one of the most attracting sites in the city and many choose to picnic and stroll there.
7- Marrakech by Night
As the night falls, Marrakech becomes another different city and a new life begins. There are many things you would prefer to do so as to spend an elegant evening.
Apart from Jemaa El Fna, there is a big number of night clubs, pubs and casinos. They are what makes the city quite hectic at night and lets everyone enjoy life to the fullest.
8- Well-being in Marrakech
The city holds a wide range of fitness centers, specialized institutes and beauty salons that offer high quality services. They include hammams, saunas, jacuzzis, massages, spas, relaxation and body and beauty care.
If it is the first time you visit Marrakech and would like to be at the heart of action. Probably the best place to stay in is Medina. Being considered the old town and its location at the city center made it a lively place and so hectic.
Just around the Medina, there are many hotels, Riads and traditional Moroccan guesthouses, some of the best-value accommodation services.