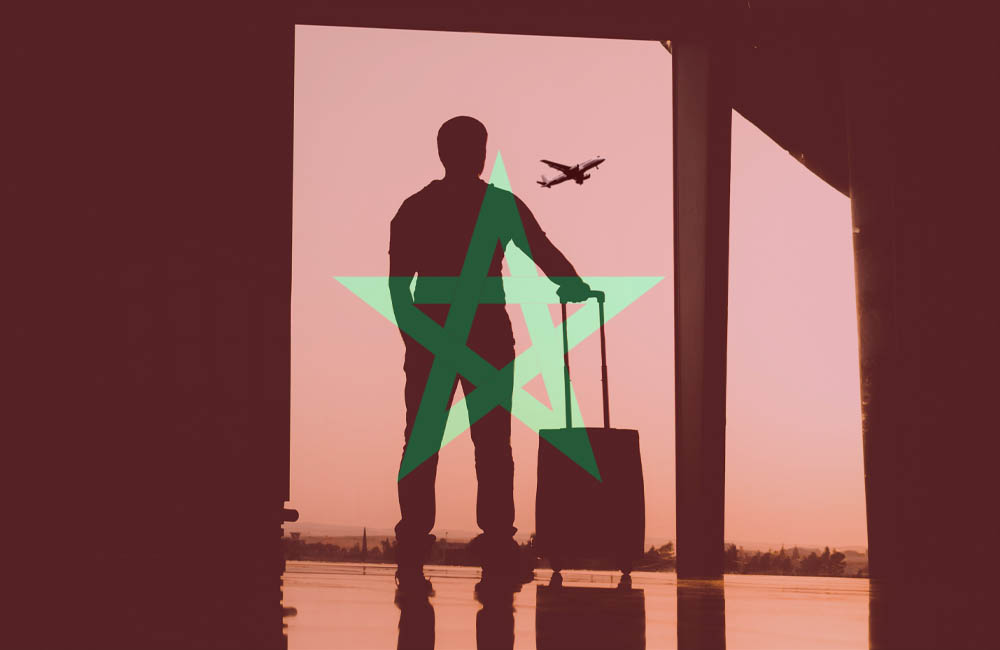 Moroccan Tourism
The Inauguration of Direct Israel-Morocco Flights: A New Milestone
The Inauguration of Direct Israel-Morocco Flights: A New Milestone in the Normalization Efforts Between Morocco and Israel
Direct Israel-Morocco Flights
Under the re-establishment of diplomatic ties between Morocco and Israel in December 2020, both countries reaffirmed the importance of enhancing cooperation in all sectors, including tourism.
This has led to the decision to inaugurate direct flights between the two countries.
The announcement of a direct flight route between Israel and Morocco is also driven by Morocco's resumption of international flights last June after months of travel restrictions due to the COVID-19 pandemic.
Consequently, it has now become possible to travel between Israel and Morocco without a stopover.
On Sunday, July 25th  two Israeli airlines launched their first commercial flights between Israel and Morocco,  carrying hundreds of tourists and members of the Jewish diaspora from Israel.
The first two direct flights were set between Israel's Ben Gurion International Airport in Tel Aviv and landed in the Marrakech-Menara International Airport.
These flights were operated by the Israeli companies  El Al Airlines and Israir Airlines.
Following these flights between the two countries, Morocco's National Tourism Office (ONMT) signed a memorandum of understanding with Israel's El Al airlines.
This memorandum aims to provide a common framework to promote Morocco as a travel destination, improve media coverage of the flight route, and essentially increase tourism between Morocco and Israel.
When Should you Expect  Regular Flights Between Morocco and Israel?
As of now, Israeli airlines operate one scheduled flight per week but hope to increase this number to five flights per week depending on demand.
These flights, which will take between five to six hours, will land at Menara Airport and will start at a cost of $499 for a round trip.
In the near future, El Al Airlines intends to operate three flights per week between Tel Aviv and Marrakech aboard its Boeing 737-900ER. This aircraft, the ONMT disclosed, can accommodate 16 passengers in business class and 159 in economy class.
It was also indicated that El Al will operate three weekly rotations to Casablanca's Mohammed V airport by next September.
Similarly, Israir Airlines declared its intention to open five additional flights per week between Israel and Morocco.
As tourism officials predict high demand, flights from/ to Morocco will also be offered by Arkia Airlines and Royal Air Maroc.
 Arkia Airlines is set to launch its direct flights to Morocco next Tuesday, August 3rd.
Royal Air Maroc also intends to begin operating flights from Casablanca to Tel Aviv later this year.
Additionally, the Israeli company Tal Aviation recently confirmed that Morocco's national carrier Royal Air Maroc will be opening a representative office in Israel.
Your Covid-related Travel Concerns Answered:
Israel has issued a Covid-19 travel notice regarding travel to North African countries including Morocco. Thus, the Israel Ministry of Health requires travelers arriving in Israel from Morocco to self-isolate upon their arrival to the country.
Travelers with valid vaccination will only have to be isolated for 24 hours upon their arrival to Israel.
For more information, visit the digital Israeli government guidelines. 
Here, you can find more information about Covid-19  information in Morocco to help you during your stay in the country.