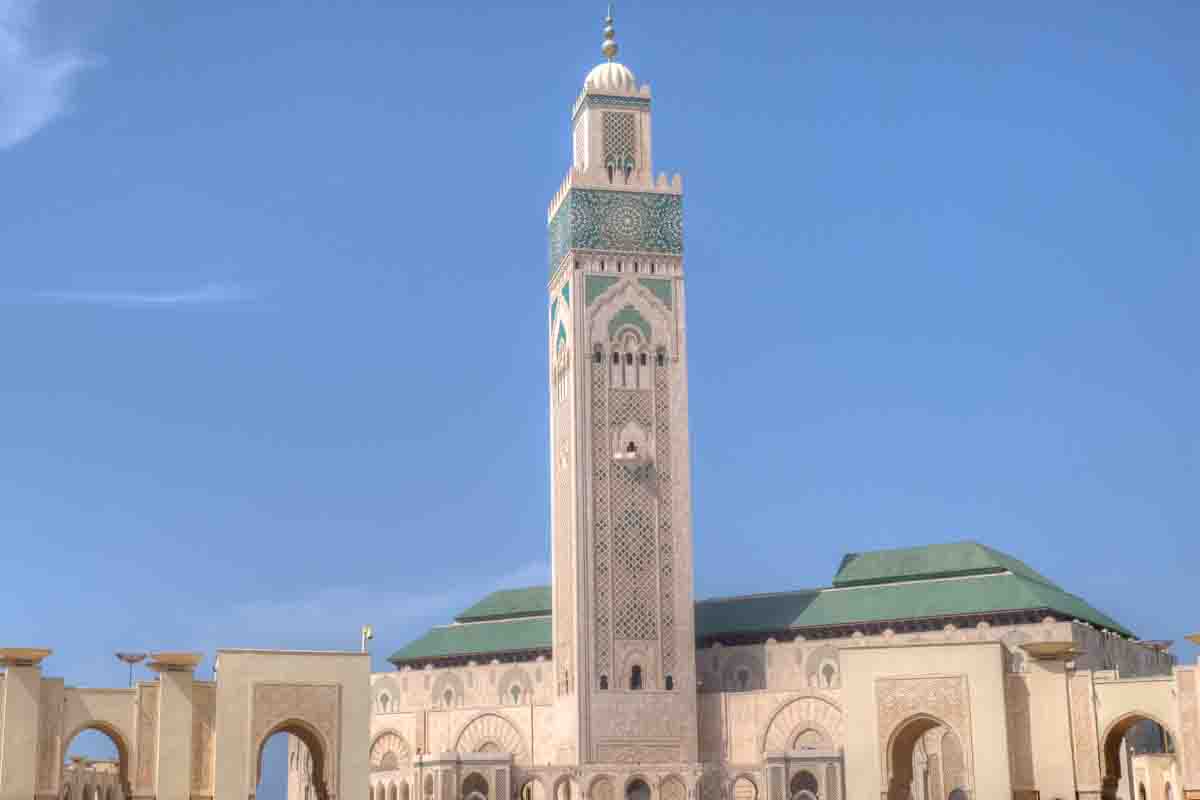 The Best Sights & Historical Places in Casablanca
Morocco is an ancient country with both geographical and cultural attractions all over the country. With a rich heritage of historical travel and trade it is a real cosmopolitan country and this can be seen by examining some of the many things to be seen in the country.
Historical Places In Casablanca :
In a historic town such as Casablanca you can of course expect to find many interesting sights, some of them are related to history. Here are a few highlights:
This imposing mosque is the ultimate example of modern Moroccan styling in buildings. So proud are the people of Casa of this building that it invites non-Muslims to visit it so that they may appreciate its grandeur.
Completed only in 1993 it is a showpiece of tilework, plaster, wood carvings and modern technology.
You will find the 9 hectare complex of buildings and courtyards near the sea, on Boulevard Sidi Mohammed Ben Abdallah where it overlooks both the harbor and the El Hank lighthouse.
The mosque has also a Hammam inside.
Check The Hassan 2 Masque Map & Address
Also known as Phare d'el Hank this traditional lighthouse built in 1919 the light in the tower still flashes white every 15 seconds. A round stone tower with gallery it is painted white. it is the tallest of Morocco's many traditional lighthouses and is the landfall light for Casablanca as it is located on the western most point of the city.
The grounds are open for visits but no entry is permitted into the tower.
The main plaza of Casa and sometimes called by visitors "pigeon park" it is to Casablanca what the Piazza san Marco is to Venice. There is a beautiful fountain, musical at times, as well as vendors selling corn to feed to birds.
Visit at night to see the lights!
In the Ain Diab suburb, is the city's vortex for those who want to see and be seen. Much of the shoreline is now home to luxury hotels and restaurants.
During the day, the many beach clubs here do a roaring trade, with sun worshipers lapping up the rays and splashing in the club swimming pools. Farther along the shoreline is the public beach.
On sunny weekends, this is a great spot for people watching, with plenty of local families heading to the sand for picnicking and promenading.
Marabout de Sidi Abderrahmane :
When visiting the beach spend some to visit this islet tomb of the founder of Algeria. Located on a rocky outcrop just beyond the edge of the beach, overlooked by Morocco Mall making a fine contrast between historic religious, and modern secular that shows how Casablanca has brought tradition into the modern 21st century embracing and maintain both important ideals of history as well aspirations of modern life.
Medina (Old city of Casablanca) :
Although Casablanca's old city district may not have as much exotic atmosphere , the maze-like tumble of alleyways still hides much to discover. Authentic tradesmen sell their wares to shoppers, with the butcher, the baker, and the candlestick maker all accounted for. It's a rambling and ramshackle neighborhood with an authentic residential feel, and a great place to experience the pulse of Casablanca life.
This graceful cathedral was built in the 1930s, and its architecture is a harmonious blend of both European and Moroccan style. Unfortunately, it has been left to wither in the past few decades, and is now in need of serious restoration. But even in its current dilapidated state, the structure is still beautiful.
If you're lucky, the guardian will allow you inside where you can capture a sense of this building's past glory. Nearby is the Notre Dame de Lourdes, a church lit by a vast stained-glass window covering more than 800 square meters.
Out of town (Casablanca)
Use Casablanca as a great base to visit some of the nearby historic and interesting sights:
Just 80km south of the city this little visited village (now it became a city) has a history that dates back hundreds of years, today the ramparts and walls around the old Medina and the connected fortress or Kasbah which is 400 years old are all worth visiting.
A clean quiet beach makes it worth a day trip.
Less than 30km north of Casablanca you will find this sleepy beach town with a laid back atmosphere. Although there is a large port here the town itself is unchanged from a hundred years ago, and even the "new Town" is historic!
Cafes and restaurants are full of locals and in-the-know Expatriates during the summer months and on holidays.
For accommodation and can search and book the right hotel, hostel, riad, residence and more, just by redirecting to our dedicated page "Hotels in Morocco" to see the updated and the best offers in Morocco.
The same for flights, you can always check our site to search and book the cheapest flights to Morocco (economic and business class) where you are with best prices.