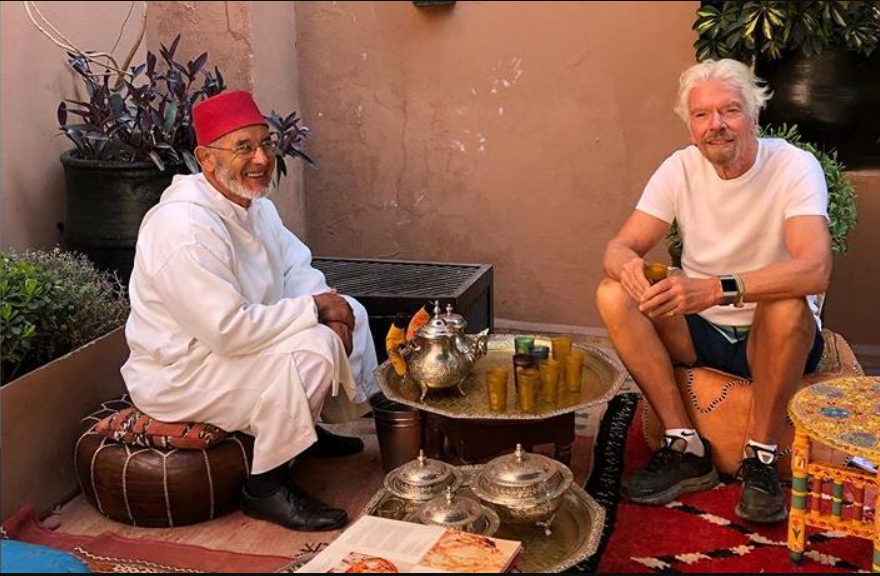 Billionaire Richard Branson to Invest in Moroccan Tourism
With properties and investments around the world, from the British Necker Island to South African Ulusaba Reserve, entrepreneur and Virgin Group founder Richard Branson still makes sure to visit Morocco at least twice a year.
In his latest visit to Morocco, Sir Branson was delighted to stay at his magical Virgin Limited Edition retreat, Kasbah Tamadot, up in the Atlas Mountains in Morocco.
The story of this Award-winning retreat began when Sir Branson visited Morocco in 1998 while he was preparing for a ballooning expedition.
It was then that Brandon's parents discovered Kasbah Tamadot and convinced him to buy it from Luciano Tempo, an Italian antique dealer and interior designer.
Since then Sir Branson has transformed Kasbah Tamadot and its surroundings into a lavish retreat and the No.1 resort hotel in North Africa and the Middle East in the Travel+ Leisure World's Best Awards 2021.
Wonderful to spend time with the @EveBranson Foundation team in Morocco. Such a special foundation doing amazing work with brilliant people https://t.co/H1UuA76rVA pic.twitter.com/Loq5ynriVD

— Richard Branson (@richardbranson) September 1, 2021
Interested in visiting Kasbah Tamadot? Here is everything you need to know…
Situated in the spectacular High Atlas Mountains in Morocco, Kasbah Tamadot is only an hour's drive south of Marrakech near the village of Asni.
This magical retreat has 28 rooms. Each room is distinctly decorated to reflect the architecture of the building in Moroccan/ Berber style, beautifully featuring antiques from all over the world.
Besides the exotically styled rooms and salons inside the building, there are so many more opportunities for having luxurious fun.
The Kasbah offers a four-room spa with a hammam and Watsu pools, multiple Jacuzzis, two tennis courts, a billboard room, a fully equipped gym, and a library and kids' club.
The landscape surrounding Kasbah Tamadot also boasts a spectacular garden, an infinity pool, and an outdoor cinema.
Other fun activities you can do at Kasbah Tamadot include:
Getting cooking lessons: get hands-on interactive cooking sessions with a chef who will walk you step-by-step through how to make some of our more popular dishes.
Mule Riding: get the chance to discover the High Atlas Mountains and trek to the local village in a traditional way by riding the local's mules.
Trekking and cycling: If you like to stay active at all times, trekking or cycling the mountains surrounding Kasbah might be perfect for you. Check out Branson's latest video exploring the "winding paths and steep inclines made for some challenging bike rides in the most stunning of settings"
Day excursions by car: On your way back to Marrakech but want to see more of the country on the way? You can book a car to take you through some of the most spectacular routes and experience the most beautiful of views.
Volunteer at:
Eve Branson Foundation (EBF): From a knitting group initiated by Eve Branson in a local village to a successful charity, you have the opportunity to volunteer at the EBF to empower the local community near Kasbah Tamadot to be able to make a living, while still preserving their rich Berber heritage. Here you can also buy all sorts of local crafts and Artisanal Products to take back home.
Pack for Purpose: In partnership with kasbah Tamadot, this charity allows you to support local projects by making meaningful donations to make a priceless impact on the lives of the local children and families.
Visit the EcoMuseum:
Just a 5-minute walk from Kasbah Tamadot, on the edge of the Toubkal National Park. You can gain an insight into the surrounding area's natural and cultural resources.
How much should you expect to pay to book a stay at Kasbah Tamadot?
Double rooms go for £488 in low seasons and go up to £580 in high seasons. Berber tents start from £870.
Richard Branson Plans to Invest in Dakhla's Tourism Industry.
In his latest visit to Morocco, Sir Branson has left with a newfound interest in southern Morocco and potential investment plans in the Western Sahara coast, particularly in the hotel and kitesurfing sectors.
After this visit to Dakhla, a city known for its tourist assets, Dakhla Spot Online reported that Sir Branson has confirmed his plans to invest in the region saying:
"I am captivated by Dakhla and its region and I will come back to kitesurf and certainly invest."
Accompanied by his family and friends, Sir Branson visited various sites in the Dakhla-Oued Eddahab region.
The billionaire made his stay at Ocean Vagabond Hotel before downwinding to kitesurf in the White Dune for an hour and a half. He capped the day off in Dakhla by joining his family and guests for dinner at Dakhla Attitude Hotel.