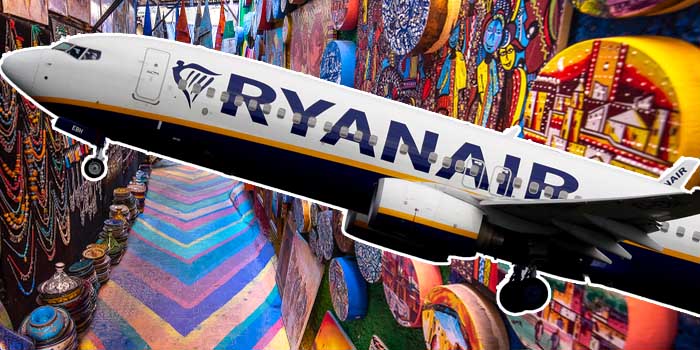 For those who missed out on a summer getaway, Ryanair has also revealed its winter program, linking Moroccan airports with a number of European destinations.
Committed to increasing its connections in Morocco, Ryanair's Winter program 2021 comes with 10 new air routes to and from Morocco.

Ryanair's Morocco Winter 2021 schedule is expected to operate over 300 weekly flights to over 120 destinations, including a wide range of new routes to different European hotspots.
Source: Ryanair's Corporate Website
Ryanair's winter program is also scheduled to operate flights linking Marrakech with several European cities such as Barcelona, Madrid, Zaragoza, and Valencia.
Fez will also be hosting Ryanair flights to European destinations such as Spain's Barcelona, Madrid, Seville, Malaga, Valencia, and France's Marseille, Nimes, and Toulouse.
The airline also announced that flights to Ibiza, Bergamo, Rome, and Toulouse among others will be available.
Ryanair to Open its Third Moroccan Operations Base in Agadir :
As part of its strategy to strengthen its presence in Morocco, the European leading airline, Ryanair, established a new base of operations in the coastal city of Agadir last July.
This new base, the airline revealed, will connect Agadir to a variety of European destinations starting from November.
With this new base in place, Ryanair is expected to also operate the following flights as part of its winter program 2021:
Two new flights per week between Agadir-Al Massira and Bologna-Guglielmo Marco airport.
Direct flights to Germany's Dusseldorf, Frankfurt, and Karlsruhe and the Austrian capital, Vienna.
Six new routes to Spain: Alicante, Barcelona, Madrid, Malaga, Seville, and Tenerife South.
Five new routes to Bordeaux, Marseille, Nantes, Paris Beauvais, and Toulouse.
Ryanair Announced the Launch of 3 New Routes Linking Morocco and Spain :
In a statement published on September 9th, the company stated that the flights will connect Barcelona El Prat airport with three Moroccan destinations: Agadir, Oujda, and Rabat.

Starting from November, flights to serve these destinations will be scheduled twice a week, Ryanair specified.
Interested in Booking a Flight in Ryanair's Winter Program 2021? Here is What You Need to Know…
Flight's prices start from $14.
You can book your flights starting from September to October from the airline's Website.
You can modify and extend your travel time with a "zero" change fee as long as they do it seven days before the flight.