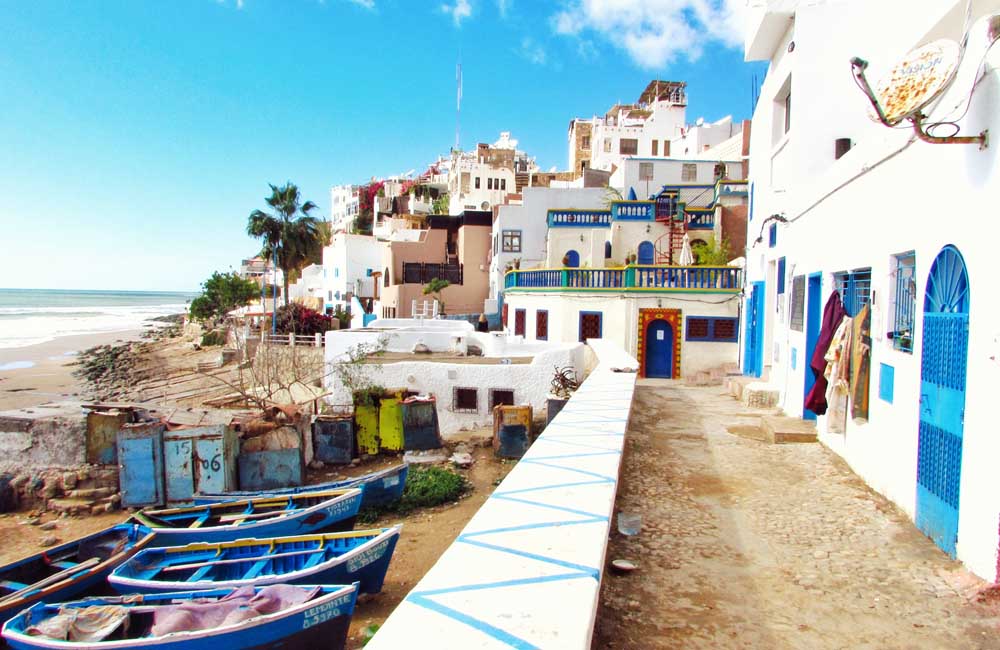 Visit Agadir: tourism guide
Agadir: a Paradise of Golden Sands and Sparkling Sunshine All Year Around!
Why you should visit Agadir :
Agadir is considered to be the capital of Souss region and a major center of cultural and economic activity in Morocco.
Its coastline extends southwards to the Saharan provinces and what really makes it worth visiting is that it is just three hours from the main capitals of Europe.
Agadir city certainly holds some of the most beautiful beaches in Morocco, a space where you can forget all about your daily routine and stress of life. (Morocco's most underrated places to visit)
Besides, Agadir is a place where visitors find an atmosphere in which they would enjoy doing a wide and varied range of pleasurable activities.
Agadir is typically a modern and coherent architectural design, very big avenues and spacious town center, green spaces such as The Valley of Birds and the lively Talborjt shopping streets and terraces where you can relax and sip coffee.
In this article you are going to find out a set of places and excursions to enjoy when visiting Agadir.
The Stunning Beaches of Taghazout & Tamraght
Fringed by banana groves, the beaches of Taghazout and Tamraght are some of the most stunning extreme beaches in Agadir.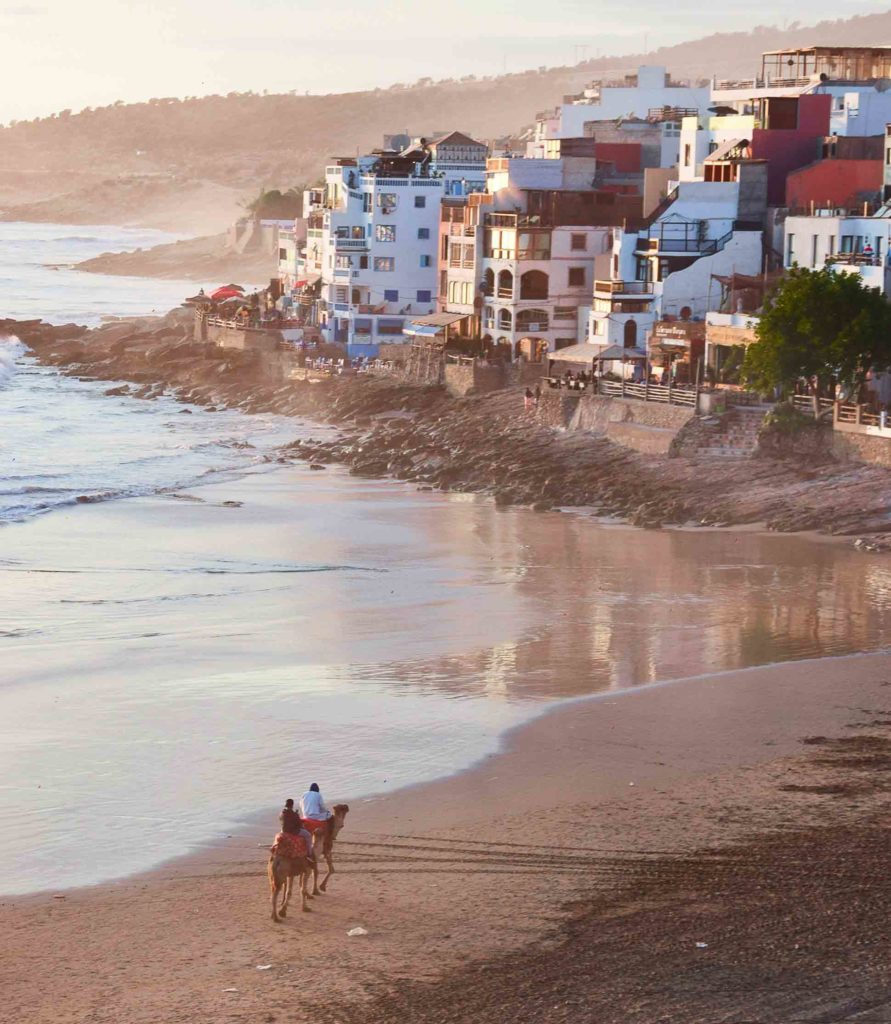 They are located just about 19 Km in the north of Agadir, and are featured with their extraordinary climate.
They are very popular among people of Agadir themselves, widely known for the sport of surfing, there are even some clubs specialized in surfing and made specifically for helping people learn how to surf.
Moreover, there are also some other beautiful beaches along the coastline like Imourane, Imi Ouaddar, Aghroud, Tamri and more importantly Imsouane.
Marina: The Beating Heart of Agadir City
Just a few miles away from the city center, Marina is obviously a space for entertainment and seizing the day, and a prestigious and luxurious shopping area for tourists.
Marina offers clients various services, and activities along with fashion shops, restaurants of all categories the thing that guarantees visitors all they could wish for in the way of comfort, modern infrastructures, and first-rate service.
And not far away from Marina, there are plenty of swimming pools, spas, tennis courts, water sports, sea trips and so on. In fact, everything that a world-famous seaside resort should be able to offer its visitors.
The Valley of Birds: A Must-visit Place
The Valley of Birds is a zoo that holds inside it rare and different kinds of birds from South America and Asia along with some mammals including wild sheep and macaque.
The zoo also involves so many other species such as magnolia trees, banana plants, bougainvillea and oleanders which are surrounded all by a wonderful cascade.
It is absolutely one the main attracting areas in Agadir and concerning its location, it is situated quite in the middle of the city and extends to the corniche. It is being visited by hundreds if not thousands of people every day.
Souk El Had: The Biggest Market in Africa
Souk El Had is an authentic traditional market. It is undoubtedly one of the biggest and most wonderful Souks in Morocco. It opens six days a week, except on Mondays.
The market took the name of Souk El Had when it used to open once only on Sundays.
Behind its ramparts which are made up of clay, you find yourself in a timeless atmosphere and discover an abundance of goods, from the most contemporary to the most traditional.
The Souk was built in the early 1960s, after the earthquake and was first renovated in 1997.
Now it has gone through some modernization including a big roof that covers throughout the Souk and new flooring. Furthermore, it offers visitors a space up to standards in terms of safety and pedestrian mobility.
Souk El Had attracts customers of all kinds. Spices, olives, honey and dates, furniture and fabrics, crafts, fashion, household equipment, Moroccan traditional clothes.
Lots of things in fact could be found and bought with a reasonable and not that expensive price.
Souss Massa National Park: a Remarkable Geographical Area
The Park lies along a strip of coastland, stretching from the mouth of the river of Souss " Oued Souss ", which is in the southern part of Agadir, to Sidi Moussa Aglou near Tiznit town.
It is a diverse geographical area that contains dunes, steppes, woodland, wetland and some arid zones.
Mamma life includes wild boar, jackals, foxes, hares, mongooses, wildcats, genets and porcupines.
Besides, the Souss Massa Park has exceptional and distinguished landscapes for visitors and visits to the park can center around two themes namely the discovery of the Saharan fauna and exploration of Ouad Massa estuary.
Souss Massa Culture: Finery & Food
Souss Mass has always been known that the overwhelming majority of its inhabitants are Amazigh.
That is to say, the culture and traditions of Amazigh people are being lively there in the region in terms of clothes and food.
Traditionally, Amazigh women wear silver bracelets that they never take off because in Amazigh custom, the richness of a wife's adornments makes an indication about the family's social status.
On some occasions, they put on their finest adornments which are often made from silver such as earrings, necklaces, and pendants, always coming in a wide variety of shapes.
Such jewelry has a symbolism, an art that is still alive today in Souss Massa region and specifically in Inezgane, Tiznit and Taroudant.
Moroccan cuisine, for certain, has its own great classics and countless variants, and they differ from one region to another but speaking of coastal areas like Agadir, we find that fish is at the top of a bill that includes tuna Tagine with raisins, monkfish with preserved lemon, as well as fish croquettes with saffron rice.
But what really distinguishes the cuisine of Souss Massa is that it incorporates a set of Amazigh produce such as argan oil, saffron, honey and almonds.
And of course, olive oil is always on hand along with cumin and a mixture of spices.
Generally speaking, Moroccan culinary is sophisticated and a flavorful one with its authenticity which is kept to the fullest.
Read more : The Must-See Places In And Around Al Hoceima