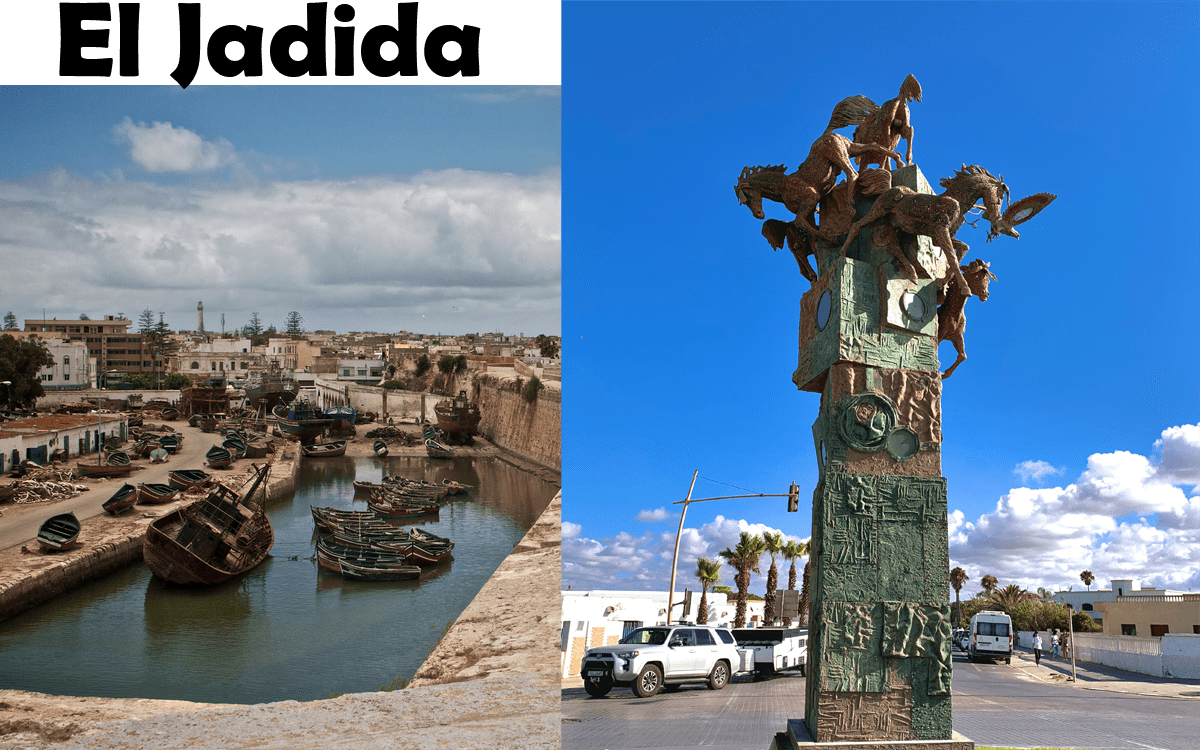 El Jadida Tourism Guide : best things to eat, best things to see, when to come to the city …
Listed as a UNESCO World Heritage Site, El Jadida is an unparalleled tourist address in Morocco. Coastal and historic city, it is located about 96 km from Casablanca, on the seafront.
This place is home to beautiful beaches adapted to the expectations of lovers of idleness and water sports. Every year, the territory thus welcomes a crowd of holidaymakers in search of authentic places for an exceptional seaside stay.
El Jadida, or "The New" in Arabic, was restored at the time of Moulay Abd ar-Rahman, a descendant of the Alaouite dynasty who, in 1822, was proclaimed sultan.
Since that year, a large number of European traders (English from Gibraltar) and Jews have decided to settle there.
El Jadida then became one of the most touristic and famous destinations in Morocco.
El Jadida stands out above all for its incredible "fortifications" erected for centuries. The city is, in fact, famous for its fortified city, built by the Portuguese at the beginning of the 16th century.
Its ancient ramparts, its bastions, and its Portuguese military architecture dating from the Renaissance, are all vestiges that allow you to dive into wonderful stories.
To discover this historical jewel of Morocco, a stay in El Jadida or in the neighboring towns is a must.
Read also : 19 Top-Rated Attractions & Things to Do in Safi
Why visit El Jadida ?
With its thousand and one wonders, El Jadida is sure to seduce all types of visitors.
Admire its incomparable wealth of heritage
For lovers of architectural discoveries, El Jadida is undoubtedly a world apart with its unique heritage and beauty. It is, in fact, the Portuguese city, a huge site listed as a UNESCO World Heritage Site in 2004. In the fortifications of El Jadida, the bastions of Saint Sebastian, Saint Anthony, and the Angel and of the Holy Spirit are still intact.
The old fort has also preserved its walls to impress its visitors who will surely be delighted to take the walkway. The latter is carefully preserved. It leads to panoramic viewpoints overlooking the sea and the landscapes of the city.
To make sure you don't miss a thing on a hike in the Portuguese city, a visit to the Church of the Assumption is a must. This religious building is characterized by a Manueline style architecture, which will certainly fascinate hikers.
Enjoy a good time on its attractive and sunny beach
This Moroccan city is not just about its authentic architectural destinations. In addition to the impressive fortifications from which it benefits, a magnificent beach with sandy stretches is also available to all. A place of unparalleled relaxation, this seaside resort of El Jadida faces the Atlantic Ocean.
It is accessible from the north and south of the city. This tourist area is conducive to a variety of activities, including fishing, sailing and other interesting water sports.
Many holidaymakers also go near El Jadida beach to play golf in a huge, ideally preserved area. It should be noted that the oceanic climate of this part of Morocco is ideal for living all these entertaining experiences. In winter, the city is particularly pleasant with its mild and humid climate.
Stroll around the port of El Jadida to get away from it all
Open on El Jadida, the port of the city is another tourist site to discover absolutely during a circuit in Morocco. In the morning, the place is imbued with a remarkably warm atmosphere that will surprise foreigners. In order to fully appreciate this exotic atmosphere of the port of El Jadida, it is best to stroll there at dawn. This is the perfect time to observe all kinds of marine activity.
While the fishermen are busy selling their baskets of deep-sea fish (sardines, smelt, tuna, herring, etc.), tourists can take the opportunity to enjoy a good frying. Attending this bewitching spectacle will thus mark their stay in El Jadida, before joining the other popular cities of Morocco.
The local port is also a perfect place to learn or practice water sports. Those who wish to indulge in aquatic leisure will find a Nautical Club for beginners and professionals. Finally, the port is home to a large square particularly dedicated to the best festivals in the city.
What to see in El Jadida?
The city of El Jadida is dotted with fascinating places that are absolutely worth a visit.
The "Mellah" district
Just like in the tourist and popular cities of Morocco, El Jadida has a district also called Mellah. This address designates the place where Jews, Muslims and Europeans have resided since their arrival in the territory, and until today. The Mellah district of El Jadida is framed by walls.
These were built with the aim of demarcating the district from the rest of the city. A tourist stroll in this part of El Jadida is an opportunity to learn everything about ancient Mazagan, its glorious past and its inexhaustible cultural gems.
The Portuguese Cistern
El Jadida is full of historical wonders, but the Portuguese Cistern is a particularly unusual site. Located in the heart of the city, precisely on the main artery, this center of interest welcomes you in a completely exotic atmosphere with its underground space marked by medieval vaults.
The Portuguese Cistern of El Jadida is steeped in history. It was built in 1541 and served as a weapons room. In 1717, a Jewish merchant, tearing down the wall of his shop, discovered this underground reservoir for the first time. Since then, the Portuguese Cistern has become one of the unmissable sites of El Jadida. In addition to being an incomparable tourist spot, it is also very popular with local and international directors.
Fascinating, the Portuguese Cistern is embellished with a Gothic vault, imposing stone columns and a circular opening measuring 3.5m in diameter. Once in this place, travelers will experience breathtaking natural lighting. Like diamonds, the radiation reflecting off the floor of the place produces a spectacular effect.
Tazotas
In the hinterland of El Jadida, about 90 km from Casablanca, there are several dry stone huts, known as "tazotas". Unique in their kind, these buildings are devoid of mortar and delimited on a well-defined space. They belong to the population of the Doukkala-Abda region and are marked by lithic landscapes. The tazotas of El Jadida testify to the great know-how of the peasants of this region of Morocco.
According to the story, these small constructions with their original architecture were built during the off-season of agricultural activities in this countryside. These traditional refuges protected the inhabitants from the heat or wild animals.
Other tazotas were also used as granaries or warehouses for hay, straw or cattle fattening. Visiting this part of El Jadida will allow backpackers to better understand the past of the city and the cultural riches of its former residents.
The lagoon of Sidi Moussa
Listed in the Ramsar site since 2005, the lagoon of Sidi Moussa is a must in the region of El Jadida. This coastal wetland is the natural home of different marine species, such as fish, crustaceans and molluscs. It is also the habitat of many migratory and sedentary waterbirds, which makes this place a protected site.
The lagoon of Sidi Moussa is one of the most popular nature reserves in Morocco. Open to all tourists, this conservation area can be visited all year round. To get there, just take the El Jadida-Safi highway. Moreover, this resort is a camping destination of choice in Morocco. It is home to places suitable for nature camping, which will undoubtedly delight holidaymakers when the spring and summer seasons come.
In order to embellish the excursions of each family or couple in this site, the lagoon of Sidi Moussa gives access to idyllic beaches which deserve to be explored. Added to this is an immense lagoon complex which extends over about forty kilometres. Lovers of relaxation in the sun will see a cove of fine sand ideal for recharging their batteries during the summer.
How to visit El Jadida ?
To better admire the beauty of the sights of El Jadida, backpackers can choose one of the following transport options:
The train
El Jadida is an easily accessible Moroccan city. Indeed, only a hundred kilometers separate this wonderful destination from the city of Casablanca. From the latter, backpackers can then take the train and reach the most beautiful destinations of El Jadida during the day. This transport is available every day and the trip usually takes 1 hour 20 minutes.
Car rental at the best price
Travelers who plan to spend a long stay in Morocco can rent a car suitable for their type of trip. They will then enjoy maximum comfort on each trip. In addition, this means of transport is the best option for a road trip in Morocco. From Casablanca, it is very easy to get to El Jadida, as these two destinations are connected by a highway.
Small or large taxis to explore the city
Compared to other Moroccan cities, El Jadida is a less popular city for mass tourism. It is therefore easier to discover its historical attractions during a stay on its territory. To do this, just take one of the small or large taxis that are available throughout the city. However, it is always wise to be accompanied by a guide, or to know the district of destination, before taking these transports.
Coach or bus to visit El Jadida and its surroundings
To better admire the landscapes of El Jadida, it is also possible to take a bus or coach trip. These are modes of transport widely used in this locality. That said, backpackers can go by bus if they want to reach places like Azemmour or Sidi Bouzid. You should know that the coaches from El Jadida serve destinations that are a little inaccessible or far away.
Read also : 21 Best Places To Visit in Morocco
When to travel to El Jadida?
El Jadida is a tourist place that can be visited all year round, because the weather is pleasant almost in all seasons. In reality, this is explained by its excellent geographical location (on the Atlantic coast) which gives it the benefit of a pleasant oceanic climate.
Before leaving for El Jadida, it is still preferable to study its travel formula, its type of stay, but especially the sites to discover on the territory. For example, for a successful summer vacation in El Jadida, the ideal would be to go there during the hottest months of the year (July, August, September and October). Moreover, the summers of El Jadida are not marked by extreme temperatures, which will surely satisfy backpackers.
As for the winters of the city of El Jadida, they are rather mild, and are almost similar to the winters of the Canary Islands. During the winter seasons, El Jadida enjoys a warm morning atmosphere and more or less hot afternoons. Tourists will easily find accommodation adapted to their holiday needs.
It should be noted that the city of El Jadida undergoes periods of drought during the months of June, July, August and September. The beaches and seaside resorts of El Jadida are therefore not recommended for swimming between June and October.
However, travelers can always organize a circuit or a road trip there, if they wish to go on an adventure or discover the emblematic sites of the destination.