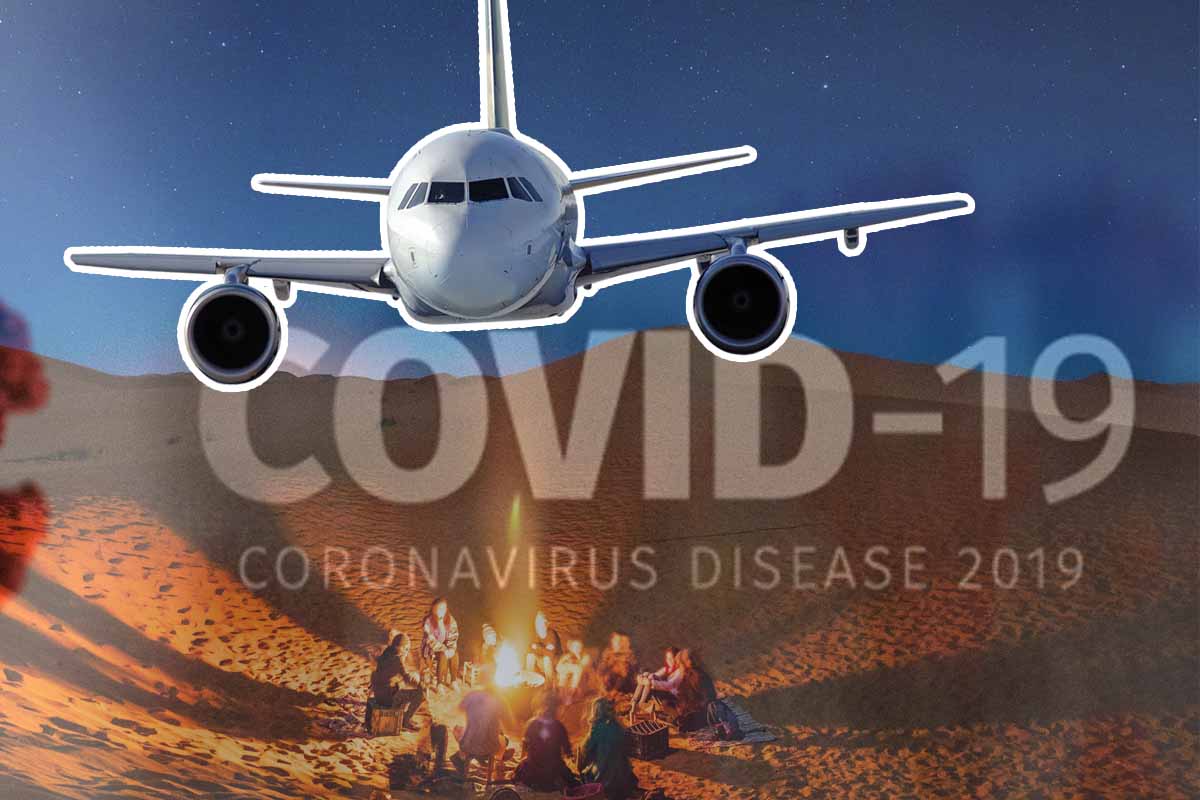 Visit Morocco While Covid-19 : Key Information for Travelers to Morocco
It has been over a year since the Covid-19 pandemic started spreading all over the globe. Consequently, travelling has become more complicated than ever! From travel bans, restrictions, entry requirements to vaccination, Here is an up-to-date comprehensive guide if you are wondering if it is okay to travel to Morocco in the Covid-19 !
Are Moroccan borders open for international travel right now?
Currently, Moroccan borders are not fully open to visitors from all countries. That is, travel between from/to certain countries might not be permitted yet.
Following the recommendations of the Ministry of Health and the epidemiological data published by the World Health Organization (WHO), Moroccan authorities decided to gradually resume flights to/from the kingdom of Morocco starting from Tuesday, June 15, 2021. In this context, countries allowed travel from/to Morocco were categorized into two lists "A" and "B".
List A constitutes countries that demonstrate improved COVID-19 control. These countries include Member States of the United Nations that are not mentioned in list B.
Travellers from list A – whether they are Moroccan citizens or foreigners – are granted entry to Morocco as long as they provide a vaccination certificate and/or a negative PCR test results taken within 48 hours before arrival to Morocco.
Who CANNOT visit Morocco ?
List B is a list of countries that are experiencing a wide spread of COVID-19 variants or lack precise COVID-19 case statistics. Therefore, these countries are not concerned with the loosened measures contained in list A. List B includes:
Afghanistan, Algeria, Angola, Argentina, Bahrain, Bangladesh, Benin, Bolivia, Botswana, Brazil, Cambodia, Cameroon, Cape Verde, Chile , Colombia, Congo, Congo (DRC), Cuba, United Arab Emirates, Eswatini, Guatemala, Haiti, Honduras, India, Indonesia, Iran, Iraq, Jamaica, Kazakhstan, Kenya, Kuwait, Lesotho, Latvia, Liberia, Lithuania, Madagascar, Malaysia, Malawi, Maldives, Mali, Mauritius, Mexico, Namibia, Nepal, Nicaragua, Niger, Oman, Uganda, Pakistan, Panama, Paraguay, Peru, Qatar, Central African Republic, Democratic People's Republic of Korea (North), Seychelles, Sierra Leone, Somalia, Sudan, South Africa, Sri Lanka, South Sudan, Syria, Tanzania, Chad, Thailand, Togo, Ukraine, Uruguay, Venezuela, Vietnam, Yemen, Zambia and Zimbabwe.
Travellers from list B must have an exceptional authorization prior to travelling to Morocco, a negative PCR test result taken no less than 48 hours prior to arrival, and undergo a compulsory ten-days quarantine once in Morocco.
Note that these lists are under constant revision and are updated every two weeks according to the changing nature of the COVID-19 situation in each country. For un-to-date information visit the official website of the Moroccan Ministry of Foreign Affairs
All citizens of these listed countries travelling through another country are not granted passage into Morocco.
What if you are not from one of these countries and you want to visit Morocco? Are there any special requirements to enter ?
Conditions of entry to morocco :
For other countries that are not suspended, entry is conditioned by:
Completion, printing and signing of a passenger health form online to be presented upon arrival to Morocco.
All eligible travelers above the age of 11 must provide a printed negative COVID-19 PCR test taken no earlier than 72 hours before arrival to Morocco.
Everyone must download the tracking app Wiqaytna.
If you are eligible to enter Morocco, it is important that you get acquainted with the restrictions inside the country before planning your trip. Here is an overview of Morocco's current "Health State of Emergency" and its restrictions :
Local restrictions inside morocco :
With the COVID-19 situation being generally stable in Morocco at the present moment, the days of quarantine are over and restrictions have eased up over the past few months. However, the kingdom-issued Health State of Emergency remains intact with a few restrictions.
This partial lock-down includes a nationwide, police-enforced curfew between the hours of 11:00 PM and 4:00 AM in place until the 10th of June with potential extension. Movement during curfew hours requires a written permission from Moroccan authorities.
Restaurants, coffee shops, malls, and grocery shops all close down according to curfew time. The general health protocol being followed includes checking body temperature at the entrance and hand disinfection. Wearing a Mask is also mandatory.
As for means of transportation, buses, cabs, trains, and rental cars are all functional in compliance with curfew limitations. However, travel and movement might be subject to regular police checking especially at city entrances.
Hotels and accomodation facilities including riads and resorts are also open with certain measures. That is, wearing a mask at the reception and all other common rooms. Social distancing is also recommended.
Public beaches are open with recommended social distancing. Private Pools are also available for booking.
On the other hand, Museums, cultural spots, cinemas and theatres however, are mostly closed until further notice. It is expected that when they reopen, access will be limited to a certain number or require reservation.
It is worth noting that each city has its own restrictions measures decided by its own council aimed at stopping the spread of COVID-19. That being said, cities like El Hoceima and Tetouan have increased measures due to the rise in the number of COVID-19 cases.
Domestic movement :
Within the framework of the Health State of Emergency, all provinces are categorized into Zone 1( less restricted movement and activities) and Zone 2 ( more restricted movement and activities) depending on the level of Covid-19 risk indicators in each region.Thus, domestic movement between cities is limited and will often require an exceptional movement permit from local authorities ( mostly granted to people with urgent medical need, work-related reasons) that you need to provide to move in or out of the restricted cities. Restriction measures related to this are often weekly updated.
Visit Morocco Covid-19 Frequently asked questions (FAQ) :
Is a Covid-19 vaccine mandatory for travelers entering Morocco?
No, vaccination is not required at the moment for eligible travelers.
What is the Covid-19 health situation like in Morocco?
To get the latest information of the Covid-19 health situation in Morocco, visit the official Corona virus portal in Morocco: Covidmaroc.ma
Is quarantine required for the people arriving from outside of Morocco?
There is no requirement to quarantine upon arrival in Morocco.
Visit Morocco Covid-19 (Important note) :
All the information above is general in nature, and based on governmental resources and embassy websites. However, the constantly evolving nature of the pandemic might render this information unreliable at times. If you have personal circumstances or in need of information relevant to you, we recommend that you contact your local Moroccan embassy, airline or travel operator prior to travel.
For Official and up-to-date information click here
You can also find more information about travel logistics from Moroccan airlines Here
For accommodation and can search and book the right hotel, hostel, riad, residence and more, just by redirecting to our dedicated page "Hotels in Morocco" to see the updated and the best offers in Morocco.
The same for flights, you can always check our site to search and book the cheapest flights to Morocco (economic and business class) where you are with best prices.