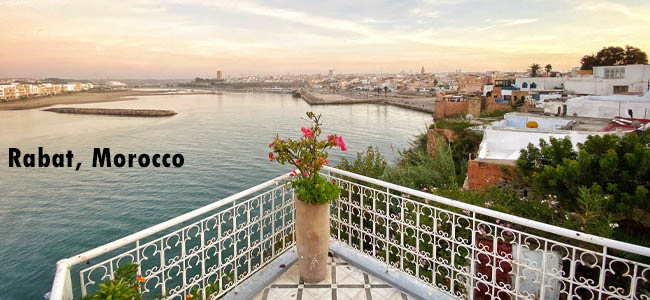 Morocco's capital city of Rabat is more than just the administrative center of the country.
Rabat elegantly features a contemporary city that preserved its antiquity, embodying a distinctive architectural and decorative style.
With a privileged location by the Atlantic ocean, Rabat enjoys pleasant weather throughout the year.
What are the best things you can do in Rabat? Plenty!

In this article, you will find some of the best suggestions to inspire your next visit to Rabat.
1- Cultural Attractions in Rabat :
With twenty centuries of history to tell, Rabat is rightly recognized by UNESCO as a modern capital, historic city, and a world heritage site.
Rabat reflects a unique cultural heritage; a product of the fusion between past Arabo-Muslim and Modern Western legacies.
Several historical sites and ancient monuments enrich the architectural landscape of the capital, Rabat. If you want to experience the best out of the city's cultural side, here is a list of the best places to visit in Rabat.
Hassan Tower :
Hassan tower has to be the monument that Rabat is most known for. This master attraction was originally intended to be the biggest minaret in the world.
Built in an intricate Moroccan and Spanish-style architecture, the 44 meter Hassan tower bears history that goes back to the reign of Yaqub al-Mansur in the 12th century.
Overlooking the Bouregreg river and surrounded by its long-standing columns in the front square, The red sandstone Hassan Tower offers a charming view. Opposite the tower lies the Mausoleum of Mohammed V. This white building with its captivating gold-leaf ceiling and carvings is open to even non-muslims.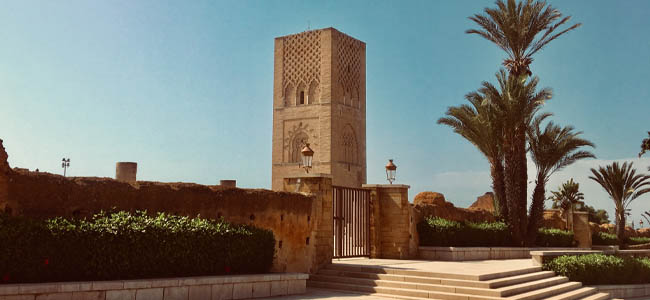 Kasbah of the Oudayas :
Occupying the oldest part of Rabat, the Kasbah of the Oudayas is a 12th-century real fortress that later became a refuge of Andalusian Muslims fleeing Spain.
Entering through the grand Andalusian-style gate, Bab Oudaya welcomes visitors to view a mix of Morocco's cultural heritage and history.
Morocco has only one blue city. Says who? Rabat's Oudayas streets have just as much glamour as Chefchaouen only with fewer crowds.
Bab Oudaya gives way to what is now a predominantly residential area with distinctive Andalusian-style alleyways beautifully painted in white and blue, iron windows, and uniquely designed doors.
The place is a peaceful and tranquil site and is the perfect place for a relaxing aimless stroll.
A tour in Kasbah of the Oudayas is incomplete without having a cup of mint tea at the touristic Cafe Maure (Moorish cafe). Not only does this cafe reflect the history of the city and the Andalusian-style of the Oudayas but it also offers a delightful ocean view.
Chellah Necropolis :
Two kilometers from the city center lies the ruins of Chellah, a marvelous mix of Roman and Merinid empires dating back to the 14th century.
This ancient archeological site is an atmospheric space where key Roman architectural remnants such as a forum, temple, principal roadway, and a triumphal arch stand out. A mirinaid-built minaret also overlooks the red sandstone walls of Chellah.
East of the site, you will find tombs of several saints as well as the Bassin aux Anguilles, an Eel basin filled with coins, fish, and turtles.
If you head south, you can find the tomb of Sultan Abu Al Hasan and his wife under which you can find a shady paved road with trees and flowers.
Over the years, the Chellah site has also become a host to several of the city's festivals, including Jazz au Chellah and Mawazine.
Mohammed VI Museum of Contemporary Arts :
For anyone with an interest in modern art, visiting the Mohammed VI Museum is one of the best things you can do in Rabat.
This museum is the first Moroccan public institution to meet international museographical standards.
The entire museum is also the first to be dedicated to the modern artistic movement in Morocco.
This makes it a perfect place to gain insight into contemporary Moroccan art in contrast with traditional Moroccan art that you can see about anywhere else in the nation.
2- Leisure Activities in Rabat :
So, you've had some relaxing time exploring the tranquil cultural attractions of Rabat and now you are wondering where are all the best places in Rabat to have fun activities?
Rabat offers its visitors a wide range of activities depending on your interest.
Royal Golf Dar Es Salam :
Ranked among the 100 best golf courses in the world, Dar EsSalam is a prestigious golf course located just 15 minutes from the center of Rabat.
This golf course is built in the heart of a cork oak forest, covering over 440 hectares of fairways, palm trees, Roman columns, and narcissus flowers. This place is simply a real-life marvel to golf amateurs.
Horseback Riding Activities :
Rabat also offers a wide range of opportunities to have fun for horse-riding enthusiasts. You can find numerous equestrian clubs that offer rides, polo matches, obstacle courses, and more.
Some places you can check out are Poney Club de Rabat, Royal Polo Equestrian Club Dar EsSalaam, and Royal Club Equestre du Lac.
Beaches and Water Activities in Rabat :
Bordered by the waters of the Atlantic Ocean, Rabat can offer a memorable seaside experience to its visitors.
Whether you want to play your favorite water sports, go for a swim, or have a lazy day at the beach, Rabat's beaches will meet all your seaside expectations.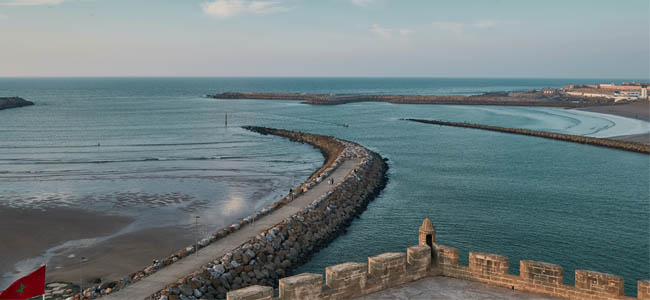 Oudaias is quite a spacious and populated beach. This beach gets the strongest Atlantic waves making it home to one of the largest Nautical beach clubs in Morocco, Rabat Beach Nautical Club.
This club offers an all-year-round range of courses and activities including sailing, kayaking, surfing, bodyboarding, rowing, paddle, and more.
At this club, you can do a myriad of activities at the Bouregreg estuary.
You can enjoy sailing a catamaran canoeing, kayaking, stand-up paddling, renting a cruise, or nautical coaching on a boat for a reasonable price.
If you need an escape from the hustle of the city and touristic crowds, there are plenty of beaches just outside the city if you are willing to travel a few miles.
Tamara beach is a wild and safe swimming beach located just 16 km south of Rabat.
People visiting this beach have quite the accommodation options and facilities.
The beach itself is easily accessible through any mode of transportation from Rabat.
located 25 km south of Rabat, Skhirat is a spacious beach with an idyllic atmosphere and is considered one of the most well-preserved and cleanest beaches in the area.
Skhirat is the perfect place for a quiet family vacation, swimming and enjoying freshly caught fish.
3- Restaurants And Gastronomy in Rabat :
Dar El Medina :
Located in Souk Es Sabbate, this is a well-reviewed restaurant you can stop by after a stroll in the medina. For reasonable prices, this place offers an authentic taste of Moroccan cuisine.
Dinarjat :
Ranked as one of the best Moroccan restaurants, Dinarjat offers its visitors an exclusive experience in a magnificent Arab-Andalusian-style residence in the heart of the medina.
Not only does this place offer a variety of authentic Moroccan flavors but also a sublime atmosphere where you can dine between columns, mosaic tiles, candles, and gentle melodies.
Le Dhow :
If you're looking for a place to have a romantic dining experience or grab a few drinks in a relaxed atmosphere, Le Dhow is a perfect destination.
Anchored at the foot of the Kasbah of the Oudayas, this place offers its visitors a distinctive boat /lounge bar experience.
The place features unique decor and a vintage esthetic and a wide array of food and drink options.
Golden Fish :
Golden Fish is a quality restaurant serving fresh French-style seafood with relaxing views of the pool and vibrant green gardens of the Sofitel Jardin des Roses of Rabat.
Café Terminus :
Located on the rooftop of the ONOMO Hotel Rabat, Café Terminus is famous for giving its visitors the best view of the entire city. There you can experience the nightlife of Rabat in a new light.
4- Shopping in Rabat :
Rabat is certainly a modern city that preserves its traditions. This is something that is clearly reflected in its retail diversity. That is why shopping is one of the best things to do in Rabat.
Shopping in Rabat offers you diverse shopping options that range from rich local crafts to modern shopping centers, malls, boutiques, national, as well as international retail brands.
The Medina :
The medina of Rabat makes a fantastic shopping spot in the city center. It is relatively less crowded than other medinas around Morocco. Hence, you get all the handicrafts as those in the more well-known souks of Marrakech and Fez with less hassle.
In a bazaar-like fashion, the medina of Rabat is home to a patchwork of Moroccan craft shops displaying embroidered fabrics, clothes, jewelry, leather footwear and bags, traditional Moroccan/Berber carpets, and copperware.
Must-sees in Rabat's medina are Souika street, Consuls Street, and Souk Es Sabbate.
Wlja Pottery Complex :
Just a few kilometers from the medina, potters, artists, basket makers and coppersmiths gather in the Wlja complex located in Sale.
There you can appreciate the colorful set of art displayed and shop for anything from vases, tagines, souvenirs, baskets to everyday items.
Alchimies :
Located in Hassan district, this is a famous gift shop known for its high quality and unique crafts. This is a perfect place to buy and choose from a variety of souvenirs.
Modern Shopping in Rabat :
For a more modern shopping experience in Rabat, it is best that you either head to Avenue Mohammed V or Agdal quarter.
There you can find a wide array of shops, branded luxury boutiques, malls, as well as trendy cafes, restaurants, and pubs. Rabat offers a wide range of ultra-modern malls including Arribat Centre, Mega Mall, Ryad square, Mall Ait Baha…etc.
5- Nature in Rabat :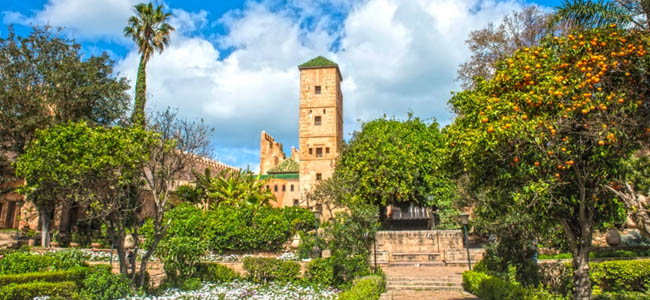 The Exotic Gardens of Bouknadel :
Located on the national road of Kenitra some 20 Km north of Rabat, The Exotic gardens of Bouknadel are one of the most beautiful gardens in Morocco.
The gardens offer five educational circuits showcasing the biodiversity of exotic plants from around the world.
In the garden's vivarium, you can observe the life of reptiles, amphibians, and a variety of other species.
The Gardens of Oudayas :
At the foot of the palace of the Kasbah of Oudayas, lies the Andalusian Gardens of Oudayas where smoothing tranquility reigns.
There you can find fruit trees and all kinds of flowers from rose-laurels, bougainvilleas to daturas.
The Zoo of Rabat :
Recently renovated, the new zoo, now known as "wild encounter", highlights the African flora and fauna in an open fashion.
The zoo presents visitors with an interactive picture of swamps, rainforests, savannahs, deserts, Atlas Mountain, and African wildlife.
Mamora Forest :
Located between Rabat and Kenitra, this natural site is considered the green lungs of the region and is Morocco's main source of cork oaks.
Any nature lover seeking a peaceful, tranquil resort for an exceptional walk or hike to relax from all the sightseeing in Rabat, Mamora Forest is one of the best things to do in Rabat.