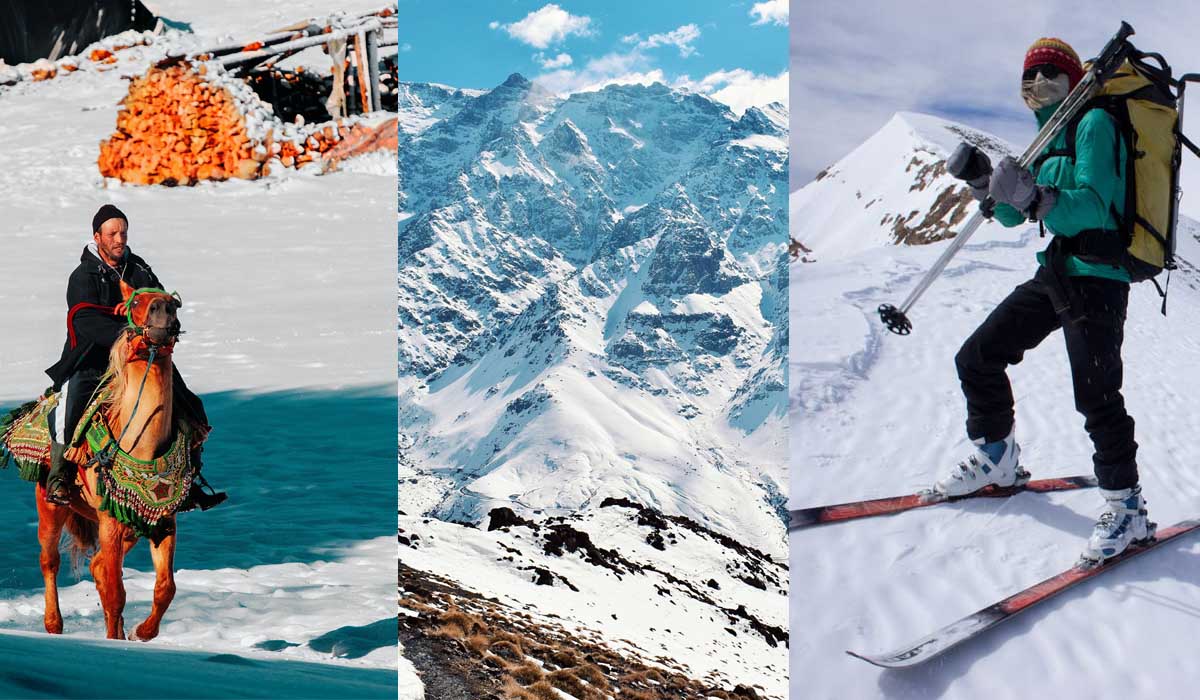 Visiting Morocco in Winter is Always a Good Idea and This is Why:
Few in the world are the countries which can claim as much diversity as Morocco. Geological, landscape, floristic, faunistic diversity, diversity of cultural heritages, human diversity.
From the ranges of the Atlas to those of the Rif, from an Atlantic coast to a Mediterranean shore, from sandy beaches to small isolated rocky coves, from the vast golden dunes of the south to the green oases, in Morocco, nature has left free run to its imagination.
A country with a thousand facets, different each season; land of atmosphere bringing together in its kingdom the greatest dreams and the most beautiful traditions of the Orient; land of encounters, of flavors; country where hospitality is king, Morocco will surprise all those who have the curiosity to go beyond the marked roads to discover its true nature.
The return of gray skies and rain often rhymes with a cooking moment at home, wrapped in a blanket with an herbal tea in hand.
The rainy season pushes many people to take refuge at home even during the holidays, not in Morocco a country that is full of several beautiful regions that visitors can discover during all seasons.
Take height:
The mountain is everywhere in Morocco. To the north, the Rif is an imposing mountain range stretching from the eastern tip of Tangier to the territories of the Rif tribes on the Algerian border.
Beautiful coastal towns and magnificent landlocked villages punctuate this chain of reliefs which culminates at an altitude of 2000 meters.
1. Djebel Moussa/ Jbel Musa
Dejbel Moussa is a mountain in northern Morocco which rises to more than 850 meters in altitude. Hiking and climbing enthusiasts will certainly find what they are looking for as they can enjoy a panoramic view of the Strait of Gibraltar from the top.
For your stay, you can rent accommodation from locals or stay in a hostel. The city of Tangier is about thirty kilometers from Djebel Moussa.
The valleys of the Atlas Mountains:
More impressive the Atlas and its high snow-capped peaks cross the country from North to South, its name evokes the Greek myth of the giant Atlas condemned by Zeus to support the celestial vault on his shoulders.
Nicknamed the "roof of Morocco", it is the highest massif in North Africa and delimits Saharan Morocco from Atlantic and Mediterranean Morocco.
To the adventure!
Country of mountains, Morocco offers sportsmen and amateurs alike, all types of hikes. In winter, good equipment quickly becomes essential, and board sports, surfing and skiing, can judiciously enhance a muscular trekking.
The most proficient can try to climb the summits to reach "the roof of Morocco" and offer a fabulous view of the whole country.
2. Ifrane
Ifrane is the Morocco of the heights, part of the Atlas and its majestic reliefs.
Perched at an altitude of 1,650 meters, the city surprises the traveler. It contributes to the wealth of experiences that can be lived in Morocco.
There, lakes with a calm wave, waterfalls which pour their cold waters into the valleys. All around, the largest cedar forest in the world. These trees raise their solemn silhouettes on the slopes of the Middle Atlas which they cover with a mantle of greenery.
The purity of Ifrane's air depends on a delicate balance. To preserve it, the city is enclosed in a natural park. Walking there is a delight; you will enjoy browsing these beautiful regions. The hiking trails are numerous, among the most beautiful in the country.
A rich and varied fauna accompanies you in your walks. At the bend of a path, it is a macaque which amuses you with its antics; further on, in the background, proud and fearful, a Barbary deer is watching you.
Ifrane is also a heritage. The city is its own spectacle that a little train allows you to discover. On board, you cross some of the cleanest streets in the world, you discover a typical regional craft: there, upholsterers spin their works; here, a basket weaving cane stems; there, finally, a pottery or Thuja wood object shop lined with charming trinkets.
Ifrane is all this, a "little Switzerland", with luxury hotels, in the middle of Morocco. Something to disorient you, that's for sure!
What to do in Ifrane to keep yourself active?
In this little corner of Morocco, you can explore immense cedar forests during a trek on foot or on a horseback ride! Climb to the trees and admire the unique landscapes of the region during a tree climbing session.
On an ATV or quad, explore the countless areas of lakes and shelters!
Without forgetting of course to put on your skis! Enjoy the excellent air quality of the Ifrane region during a regenerating stay!
Ifrane and its region are a heaven of greenery and pure air! A variety of sporting activities are available to you in a setting of rich and unexpected landscapes! Between its many lakes and its waterfalls of singular beauty, you will have the opportunity to flourish in an environment particularly conducive to sports activities of all kinds.
Hunting aficionados will be able to practice their passion in the heart of the largest cedar forest in the world! Fish or explore in a pedal boat the lakes of Daït Aoua, Afenourir or Dayet Hachlaf.
And to end these holidays in style, you can even put on skis! Indeed, in winter, the ski resorts of Michlifen or Jbel Hibri give you the opportunity to set off on snowy slopes, by ski or sled!
3. Azrou
City of a thousand and one forests with many butterflies, Azrou, 89 kilometers south of Fez will reconcile you with nature in winter.
Once there, you are invited to visit Cèdre Gouraud, a kind of forest where there are centenarians' trees.
If you are feeling adventurous and want to explore up and down the mountains and the Azrou forest, then you should definitely stay overnight at the camping area.
It is guaranteed to be really safe, and a lot of tourists will be camping too, so you are never alone. The Milky Way is also beautiful at night.
4. Toubkal National Park
In the High Atlas, Toubkal National Park has an exceptional diversity of populations. On the advice of a mountain guide, the ascent can be done in two days with one night in a bivouac or in a refuge.
5. Aït Bouguemez
Still unknown to the general public, Aït Bouguemez is one of the most paradisiacal destinations in Morocco.
Nicknamed the Happy Valley, the Kasbah is popular with thrill seekers who can enjoy a variety of activities on site, such as canyoning, hiking and climbing.
Visitors who wish to enjoy a break of relaxation and change of scenery can also find what they are looking for in Aït Bouguemez, where they can enjoy a stay under the sign of relaxation and discover the M'goun massif in the central High Atlas.
The diversity of the fauna and flora of Aït Bouguemez attracts tourists from all parts of the world coming to know more closely the traditions of the local inhabitants.
6. Marrakech
Dream palaces, luxury hotels, splendid riads, and social events, Marrakech deploys its opulence without inhibition. All the greats of this world come to recharge their batteries and experience the magic of the bewitching ocher city.
A city both mystical and hectic, sparkling with life, Marrakech reveals its splendor to tourists eager to discover its art galleries, exhibitions, celebrities, luxurious palaces, and trendy nights. It's thrilling magic works divinely, as proof, we always come back to it.
In winter, you can enjoy the ski resort of Oukaimeden, Visit the Ourika valley which sinks into the first foothills of the Atlas: a beautiful green valley surrounded by adobe villages which is suitable for hiking foot.
The picturesque village of Oukaïmeden is located 78 km south of Marrakech, in the heart of the High Atlas Mountains. The village is perched at 2,630 meters (8,530 feet), while the winter sports area clings to the edge of Jebel Attar Mountain and has a maximum elevation of 3,260 meters.
A single chairlift takes you to the top, where six descents await you. There is also a nursery area, a ski school, a family toboggan area, and a series of intermediate trails served by four ski lifts.
If you want an unconventional way, you can always climb to the top of the trail on one of the resort's donkeys.
7. Amanar Lands
Hanging on like Tarzan, pulling like Robin Hood, and warming up by the fire – all can be done in Amanar Lands.
Located in an Amazigh region not far from Marrakech, this hotel-park complex at the foot of the Atlas Mountains is not to be missed.
The Park offers a wide variety of activities, including horseback riding, archery, Amazigh crafts, zip lining, swimming, and mountain biking, to fill your vacation agenda.
8. Mazagan Beach and Gold Resort
If the stunning scenery, and historic charm are not enough to keep you entertained on a winter evening in Morocco, you can always relax in the many nightlife entertainment venues that Morocco has to offer.
To stay warm, what could be better than a short weekend at the Mazagan of El Jadida?
At Mazagan Beach and Gold Resort, located on the Atlantic coast of Morocco, is the Mazagan Casino, where you can spend an entertaining evening.
If you're feeling lucky, indulge yourself in poker, roulette, punto banco and blackjack and over 400 slot machines.
Read : Where To Celebrate The New Year's Eve in Morocco
To conclude:
Winter seasons are made for hiking, climbing, skiing seekers, for glamorous night events lovers, and for those who simply love chilling on the sofa, in a balcony pointed to a marvelous sight.
The millennial kingdom of Morocco seems to know it all and is calling you to be wiser enough to let him guide you, to one of the best days and memories that we all seek at least once in our lifetime.