Discover the beauty of the Gorges of Morocco : Todgha & Dades
Morocco is the land of a thousand contrasts. With its diversity of landscapes, exceptional cuisine, and breathtaking nature, coupled with an extraordinary cultural and human heritage, Morocco is enticing.
In Morocco, nature has given free rein to its imagination. From the Atlas to the Rif Mountains, from the Atlantic coast to the Mediterranean shores, from the wide sandy bays to small isolated rocky coves, from the southern large golden dunes to green oasis, the charm is boundless.
From the luxuriant forests to the barren high plains, from the deep wadis to the incomparable caves and gorges , from the lakes and waterfalls to the daunting Kasbahs, Morocco's wonders lie before you as far as your eye can see, endowed with history and wild beauty.
A Country of unusual landscapes and memorable views, Morocco will surprise those who are curious enough to go beyond its trodden paths to discover its true nature. (Underrated places to visit in Morocco)
Its multiple crafts offer the best traditions culminating in a jealously guarded know-how by generations of craftsmen.
A country rich with flavors, contrasts, unsuspected treasures and new acquaintances, full of throbbing memories in the authentic medinas and the untouched alleys of its cities.
A natural enclave, Morocco offers sports and adventure lovers all types of sporting activities including mountain biking excursions, rafting in the upper rivers, canyoning, paragliding and hiking in beautiful deserts and gorges.
Dades Gorge :
A twisting piece of blacktop known by locals as the "Road of a Thousand Kasbahs" leads to the famous Dades Gorge in the beautiful countryside of Morocco.
Whether you consider them one gorge or several, the scenic valleys of the Dades River are lined with hundreds of Islamic cities, citadels, palm trees, and desert sands, which make it one of the most historic roads in the country.
Passing by Dades Gorges within Morocco vacations, Remember to visit:
Travelers say it's the rolling red hills of the Dades Gorges (Gorges du Dadès) that are truly worth the trip.
After traveling switchbacks by car, visitors can wander the quiet paths of this scenic destination on foot and enjoy a steaming cup of Moroccan mint tea at the top of the gorge.
Breathtaking vistas and uninterrupted views of rolling red rocks make for a memorable resting place and quiet escape before starting on a return trip to the city.
What to do in Dades Gorges ?
While you stay in your hotel, there are many things and I highly recommend you can do many different hikes either by yourself or with an experienced local guide.
Once you arrive and settle in your room you can go for a short walk through the serpent zig-zag road and from the top, you can be enjoyed by the amazing view of the river and the valley together.
Another walk you can choose is to go 27 km through the gorge with a guide, this might be around 3 or 4 hours.
In case you have plenty of time, a 3-day-walk with a guide to Todgha Gorge may be an unforgettable experience in life where you can go deep into wild paths and see the nomadic lifestyle of Berber people.
Also, walking alongside the river is another activity recommended to find relaxation with the sound of the water and the enormous red walls of stone where you may find some shepherd guiding his flock of sheep.
This is very authentic to see in Morocco. You have a lot of things to do in Dades gorges here are some of them:
Explore Fossils and Rock Formations: Valley of Human Bodies
However strange it may sound, exploring through different types and sizes of rocks in Dades Valley is an experience that is hard to find elsewhere. Once submerged into a deep sea, the place is full of remnants, remains, rocks, and fossils that date back to hundreds of millions of years ago.
At the very start of the valley, there are geological formations referred to as Monkey Feet and Monkey Toes. These formations earn the unusual moniker from their inexplicable wind-worn silhouette.
A little remote from the Monkey Feet formation is yet another valley known as the "Valley of Human Bodies"! Many starving travelers have died there of hunger and turned into stones, thus earning the valley this grave name.
The high mountains and other geological formations house many fossils, especially those of trilobite which is an arthropod that survived for ages before getting lost by the end of the Permian Period.
Other than the fossils, you will find small rocks with many fossil graphic prints that are every bit as fascinating. To be standing on the rocky land and wondering if it was once the floor of a deep-sea is truly exciting.
A walk Around Sightseeing the Kasbahs of the Valley
Commonly referred to as the Land of a Thousand Kasbahs, Dades Valley is home to many ancient buildings that were built to protect the valley against invasion.
These pinkish square houses create a picturesque variation against the green river and brown bare hills. Many of these houses were built in the 12th century and still stand strong, while others are crumbling down under the weight of time.
Either way, these small fortresses serve as a window for the visitors who want to sneak into the ancient past of the Moroccan lifestyle. The most famous kasbah is Kasbah Amridil, which is located in Skoura.
Skoura Palmeraie – Oasis of 1000 Palms
About an hour and a half away from the Dades Valley is the vast UNESCO-protected palmeraie of Skoura.
Referred to as the "Oasis of 1000 Palms", it offers a peaceful place with numerous green lush palm groves to rumble around and unwind after a long trip into the rocks and canyons of Dades.
The green covering is enclosed by a 15-mile patchwork of gardens that still use the ancient Cheetara system of locks, levers, and canals to water the plants.
Todgha Gorges :
Located just 48 minutes away from the Dades Valley is the Todgha Gorges that were carved by both Todgha and neighboring Dades Rivers.
This wadi is a series of limestone river canyons that are flanked by as much as 400-meter high walls.
Todgha Gorges offer a hundred hiking trails to set your foot on and get indulged in the extreme sport.
Overlooking the hiking trail are the splendid pink mountains that are tinted green and gold. Stretched across approximately 1,000 feet above, these cliffs create a stunning panoramic view.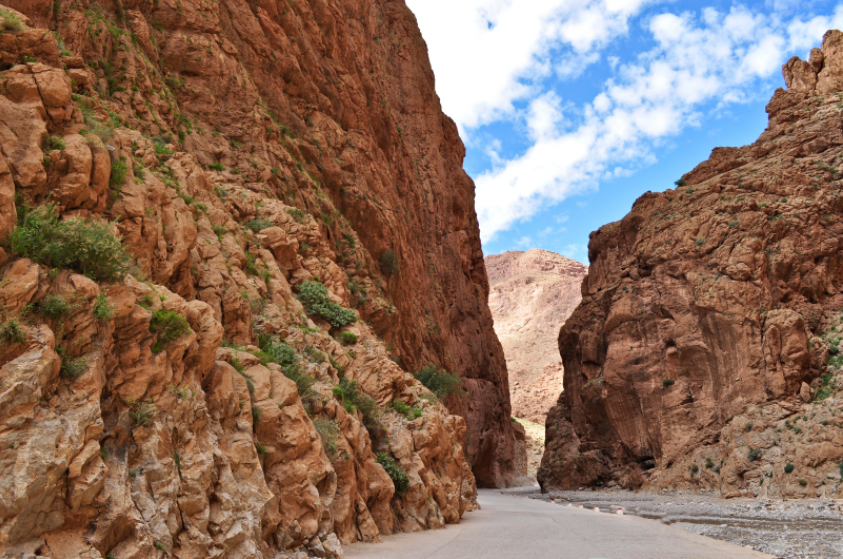 To conclude if you are an extreme sport lover, a peaceful environment seeker, or just a normal old fashion tourist, you will definitely be fascinated about what Morocco can offer in terms of geological landscapes especially gorges and canyons, you are more than welcome to visit and pay yourself an amazing life experience.