Discover the Hammams in Morocco: the history, the culture, the benefits and how you can enjoy your day in the Hammam
Among the endless details of Moroccan culture, there is one aspect of social life that comes highly recommended to travelers in Morocco : the hammam, heated constantly by a furnace of wood shaving, or a natural hot source of water, it's the Moroccan equivalent to a sauna.
The history of Hammam in Morocco
Since religion is the center of Moroccan culture, the first hammams were established near mosques and praying centers to facilitate the purification of body and soul before prayers rituals, soon the hammams baths became almost a traditional, weekly mandatory ritual among Moroccans,
Growing in popularity amongst the community, the hammam became a gathering point where people of all social classes would meet and discuss anything.
Only separated by gender, you could call it the naked truth since the purifying session is done entirely naked and allows men and women to really be themselves.
The ritual of the Moroccan Hammam
Today's hammams in Morocco are a mixture of traditional rituals and modern practices that have the same goal, purifying your body from dead skin and your soul from negative vibes, from the experience of local hammams with its unmarked doorways and progressively heated rooms, to the luxury riads and their magnificent hammams, all is set to a peaceful journey of well being paradise.
Hammams are usually two buildings that separate the women's side from the men's, and there are various types of Hammams, there are the local traditional ones, located in small towns and popular neighborhoods, and there are more luxurious, spa like hammams often located in hotels, and there are also professional ones that maintains the traditional bathing ritual of a Moroccan hammam.
The entry to a traditional local hammam costs around 12 to 30 MAD ( 1 – 3 DOLLARS ), spa hammams can be more expensive.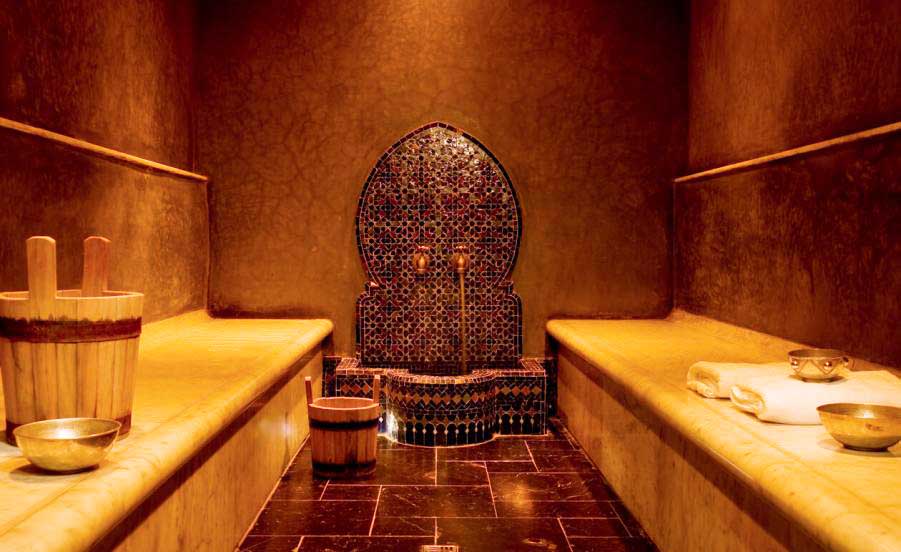 The ritual in hammam starts by choosing the hot room for about 15 to 20 minutes to relax and allow the pores to open, then start by applying a thin layer of black soap all over your body then, after resting for about 5 to 10 minutes it's followed by rinsing with lots of water.
If you are in a spa Hammam, the personnel will be responsible for taking care of the entire hammam process such as the application of products, exfoliation and rinsing.
The personnel will scrape all your dead skin from your body with a kessa glove, you will be amazed by the resulting dead skin left on the tile after the treatment.
After the exfoliation process and the rinse, you will wash your hair with your usual shampoo, right after there is a purifying ghassoul mask that will absorb all impurities from your skin while mineralizing the epiderm with essential mineral elements, the clay mask will be applied all over your body, face and hair for deep cleansing and wash and then you will apply your shower gel and then deeply rinse it.
In the most luxurious hammam they will end the session by massaging and dehydrating your skin with pure Argan oil rich with vitamin E,
After all these treatments, a nourishing massage will nourish your skin and the little extra that remains is the mint tea offered to finish your moment of incomparable tranquility.
A real luxury treatment that will revive your skin letting it breath, and giving it the fresh look that we always seek.
Benefits of the Moroccan Hammam
Physical and emotional detox : Reduce stress, anxiety and allow deep relaxation.
Beautifying the body and face : Take away dead skin from your body, unclog pores while eliminating toxins from the skin and
Fight acne : Regulate skin oil secretions to prevent acne and help heal scars and reduce redness.
Skin nourishing and dehydration : Provides essential vitamins and minerals.
Anti-aging : Allow your inner organs to breathe. Helps toning, firming the skin while improving elasticity.
Decrease muscle tension : It sooth muscle pain and rheumatism.
Better sleep : Helps rejuvenate your body while sleeping.
Boost the immune system : Activate the blood circulation.
Body and mind connection : Have more energy and feel more balance.
Feel beautiful : Feeling fresh and revitalized.
The most popular hammams in Morocco
Moulay Yacoub:
For centuries, Moulay Yacoub has been renowned for the richness of its natural hot springs. The spa town takes its name from Abu Yusuf Yaqub al-Mansur, the 3rd caliph of the Almohad Caliphate, whose legend claims that he was cured after having his first bath.
The baths use water pumped from 1500 m below ground and reach a temperature of 54 °C. Rich with sulfur which adds a therapeutic value to the water and can cure many skin diseases.
2. Ain ALLAH:
The source of Ain Allah is located 14 kilometres from the city of Fez. The water from this spring is very hot, with a temperature of 30 ° C. The source of Ain Allah is extracted by an artesian borehole at a depth of 1650 meters. Water from this source has no therapeutic indication.
3. Mosque HASSAN II hammams:
Rooted in the Arab-Muslim tradition, THE HAMMAMS OF THE HASSAN II MOSQUE in Casablanca are made up of Hammams for women and for men that occupy an area of ​​3000 m² each, which represents 6000 m² in total.
A unique site of its kind, each of the two hammams has traditional Moorish baths and health baths in hot sea water and a herbal tea room.
To summarize, the Moroccan Hammams are indeed a must in your to do list when you visit the country, the experience dives you centuries back through the rich and diverse kingdom history, and benefits your body and your soul all the way.