Visit Ouarzazate : tourism guide
It is doubtless that Ouarzazate city has always been considered as one of the most attractive cities in Morocco everyone should visit.
Situated in the south eastern part of the country as it is very famous for its remarkable heritage and breath-taking natural surroundings.
In the midst of the desert, far away from the turmoil of modern life, in a world where the sand imperceptibly fashions its dunes and palaces.
Ouarzazate marks the beginning of the journey, the traveler gets amazed by its charming beauty and simplicity and also by the magic of the deep south.
Along the way, in the midst of nowhere, villages out of age come to appear, sheltered from the sun by the palm trees that stand basking against their walls and watered by lazily flowing rivers.
Here in this article you find out so many different places and things to do when visiting Ouarzazate.
Ouarzazate, a Place of Safety and Serenity
A long time ago Ouarzazate city had been a trading center for camel caravans from sub-Saharan on their way to Marrakech, Merzouga or Fez.
Countrysides made up of adobe buildings such as Kasbahs as well as lush green oases and lunar landscapes. The thing that helped the town lose no time in becoming a major tourist destination.
It is called the town of peace, serenity, generosity, simplicity and hospitality.
Besides, Ouarzazate was able to develop a set of quality infrastructures so as to make sure visitors are being welcomed in better conditions and they would enjoy a comfortable and carefree stay.
Among those infrastructures, we find an international airport, luxury hotels, holiday clubs, conference centers, restaurants and a golf club.
Ouarzazate Kasbahs
When coming to Ouarzazate it is highly important to visit the Kasbahs or sandcastles which are simply residences built from clay; their architecture is quite distinctive.
They are featured with striking originality and rare elegance of the mountain culture and beauty. They are also an expression of the social life of people living in the mountain and are considered to be Morocco's dearest heritage.
Among those Kasbahs, we find the splendid Kasbah of Taourirt was built in the 19th century and is listed as a national heritage monument. Well famous for Its very old and astonishing architecture.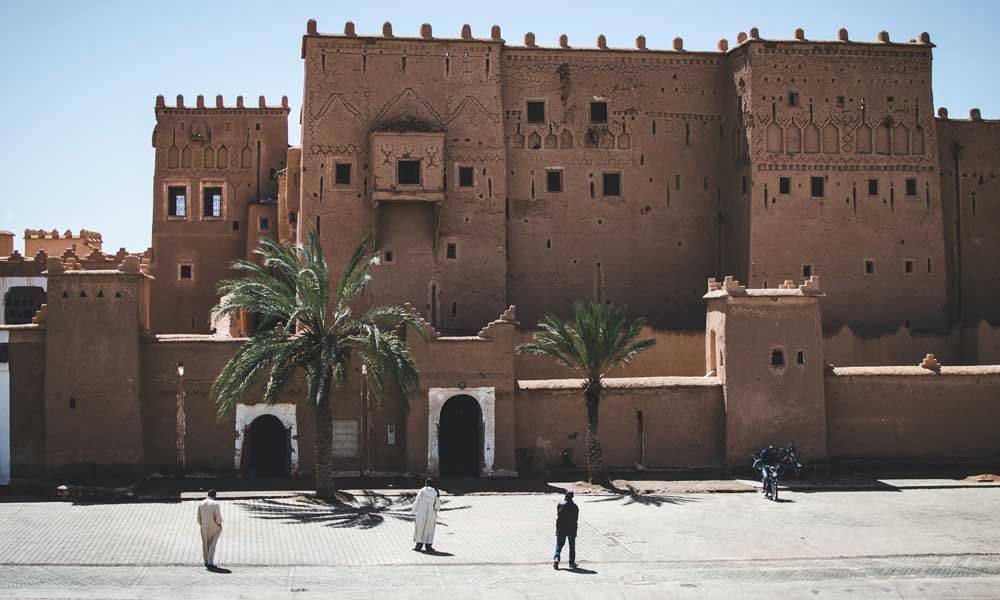 The Kasbah has just been restored and now houses exhibition galleries, a library and an amphitheater. Besides the Taourirt Kasbah, there is another unique Kasbah called the Kasbah of Ait Ben Haddou which is thought to be one of the oldest and most impressive adobe palaces in Morocco. It is listed as a UNESCO World Heritage site and is located just about thirty kilometers from Ouarzazate.
Its external walls display tiny windows with artfully designed shutters and it has only two doors which make inhabitants able to spot who is coming and going, while inside, it has a public square, mosque and Koranic school.
The Kasbah of Ait Ben Haddou is also considered one the most attractive locations for filmmakers.
Ouarzazate: The New Hollywood, One of the Primary Shooting Locations in Africa
Obviously speaking, one more important thing that distinguishes Ouarzazate from the rest of Moroccan cities is its magnificent landscapes, radiant light and ideal climatic conditions, the thing that has always drawn filmmakers to the region including the world's greatest directors, Americans, Italians, and French alike.
They opt for Ouarzazate as one of their primary and major filming locations due to its sumptuous surroundings. The town contains three large studios.
The Atlas Studios, which were set up in 1983, are open to the public and are certainly worth discovering and visiting.
Another attraction is the town's Museum of Cinematography which was a long time ago, an Italian studio before it recently turned out to be an outstanding museum.
Although it is a museum now, it is still used as one of the key shooting locations by many directors.
More than that, Ouarzazate now is a school of movie industry because it has own its training institute which is specialized in making ready and qualifying human resources in terms of movie making professionals and technicians that could response to the demands of the market, where students of the institute get to learn the ins and outs of the industry and its various branches such as film sets and machinery, production management, decoration, hairstyling and makeup, costumes and dressing as well as special effects.
Known as the road of a thousand Kasbahs, Ouarzazate makes an ideal point of departure and offers you an opportunity to visit countless beautiful places and enjoy a wide range of excursions, just following the rivers, you will happen to find out some of Morocco's most beautiful valleys specifically Dades valley.
Ouad Dades, as local people call it, makes its way through arid desert and passing lovingly within palm groves. The road continues to the rose gardens of Kalaat M'Gouna and leads to Dades and Todra gorges.
Carrying on the same road, the first place to stop is the town of Tinghir. This small and pretty amazing town is built on the terraces of Todra gorge.
Tinghir is overlooked by a mound upon which stands the ruins of an old Kasbah.
Continuing on the same road and getting approached to Errachidia, which is another sparkling city, Ziz valley cuts its way and carries its extraordinary abundance of emerald waters through a narrow strip of greenery.
The next stop would be Erfoud town which is thought to be the greatest oasis in the Draa Tafilalet region that holds more than 700.000 date palms within its territory.
Crossing black desert, red dunes and reaching Rissani, a town that used to be a major stop off for camel caravans but much trading activity still goes on there today.
Further on, tarred roads give way to tracks and the dunes of Merzouga appear in the distance. Red sand stretching as far as the eye can see and watching the sun rise and set over them is truly an extraordinary experience as well as riding camels and exploring the Sahara and its magic beauty.
Whenever you ready to visit Ouarzazate, we help you with flights and accommodations : )
To search and book flights to Ouarzazate check out our page: Flights to Morocco
To search and book hotels in Ouarzazate, check out our page: Hotels in Morocco